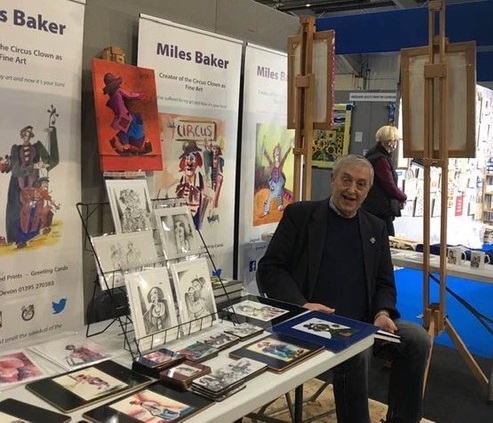 Miles Baker is willing to accept commissions
Born in Bearstead Kent, Miles Baker has spent more than 30 years developing his talent as an Artist. His preferred medium is watercolour and he uses fine-tipped fibre pens for his Pointillism.

Miles is completely self-taught and has chosen to specialise in the Circus Clown because of his love of comedy and, purely & simply, no one else paints them! His talent of clown painting enables him to somehow capture their true pathos perfectly.
Circus Clown Artist & Painter of other Clowns.

He has travelled the Country, and the Channel Isles, participating in numerous Craft Shows, County Shows, and Art Demonstrations.

Miles Baker has exhibited in the United States & Europe and among his more famous customers are Millicent Martin & Ron Moody. He has appeared on BBC Radio Devon and his 'ambition' is to be a guest on Desert Island Discs!