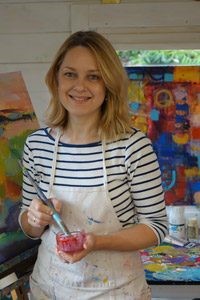 Jessica Brown is willing to accept commissions
I'm an abstract painter working from my studio in Warwickshire, creating paintings which I hope are joyful, layered and evocative.

I often include mixed media elements in my paintings to build up layers of marks and texture, obscuring and revealing, to create a beautiful, multi-layered surface like the patina on an old boat, or a building facade layered with posters and graffiti. Inspiration for my paintings comes from my life, and the events, people and landscapes I encounter.